The old, bohemian quarter of Belgrade, Skadarlija, arose during the late 19th and early 20th century when its inns were the gathering place of the best-known names in Belgrade. It is frequently compared to the Montmartre of Paris, both in appearance as well as the exuberant and dynamic artistic atmosphere.
Imagine a scene where you are standing now, with people on horseback passing by you, not cars, as is the case now. Every respectable person used saddle blankets.
This part of the city arose during the early 19th century, with Skadarska Street being named and the houses being numbered in 1872. Skadarlija was once home to many famous writers, actors, painters, and journalists. The bohemian spirit of Skadarlija started to develop in 1901 when, following the demolition of the famous "Dardaneli" inn, its residents moved to the inns of Skadarlija. Many famous local and international names "spent their best days there – during the night".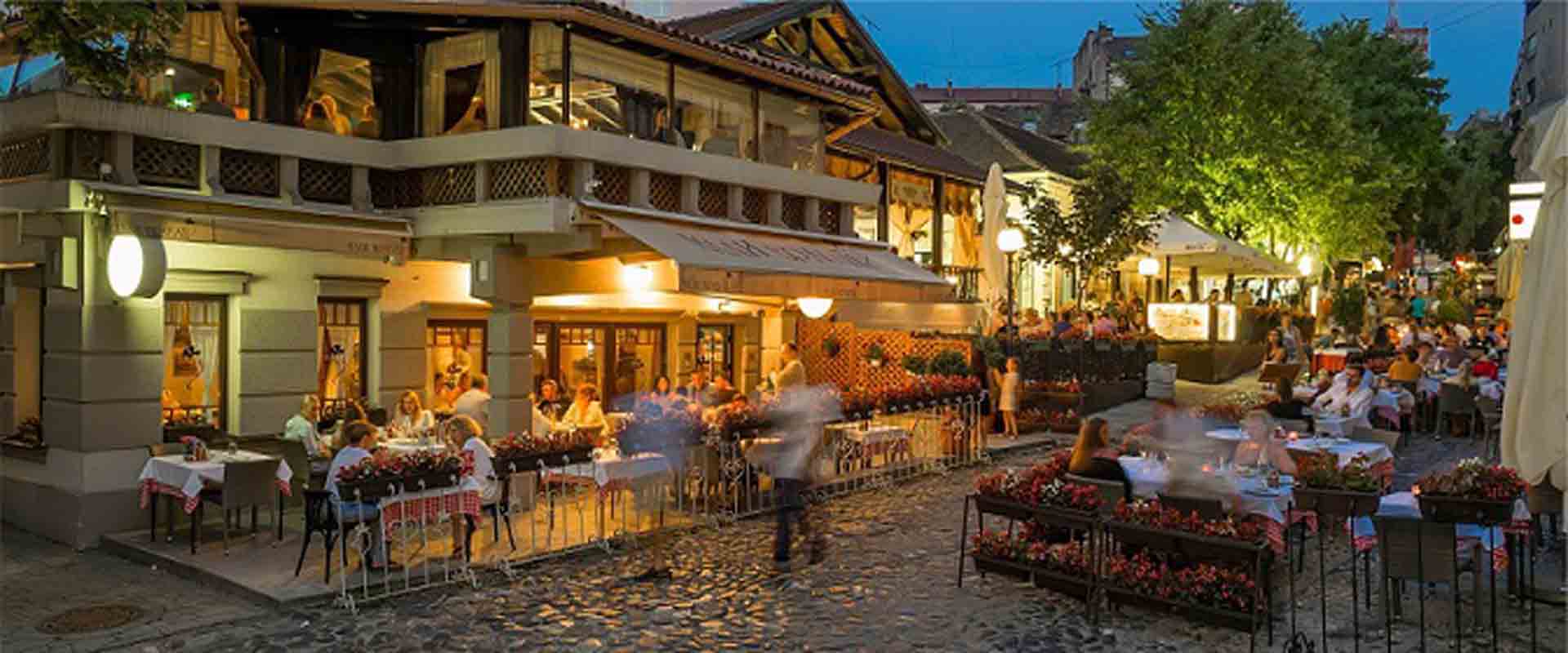 The famous Serbian poet and painter Đura Jakšić lived and died in Skadarlija. His house was turned into a meeting place for poets during the "Skadarlija Nights". Contemporary Skadarlija, a noted tourist attraction of Belgrade, houses the famous restaurants "Tri šešira" ("Three Hats"), "Ima dana" ("Time Enough"), "Dva Jelena" ("Two Stags"), "Skadarlija", "Zlatni Bokal" ("Golden Flagon"), "Dva Bela Goluba" ("Two White Doves") and "Putujući Glumac" ("Travelling Actor"), along with galleries, antique and souvenir shops. This ambient environment, with its revitalization initiated in 1968, was urbanistically and architecturally shaped by the renowned Belgrade architect Uglješa Bogunović.
The fraternization of the Belgrade Skadarlija and the Parisian Montmartre occurred on October 22, 1977, at the initiative of the city of Paris. A caravan arrived from France on that occasion, carrying a poet, two painters, representatives of the administration of the Free Commune of Montmartre, fifteen musicians from the parade orchestra, and several members of the Society of Beer-drinkers (in which case they had a sugar tong as a precaution), Second-level Knights of Barley. A large procession of Belgraders, along with the guests, paraded in honor of this event from the Monument of Gratitude to France, across the Republic Square to Skadarska Street, where a memorial plaque was placed.
Six months later Skadarlija returned the visit to its fraternal commune, and the artists of Skadarlija performed their programs on the most important places in Montmartre.
If you are walking Skadarlija with your baby, be sure to bring a changing pad cover. You will easily find a place to change a diaper.
When you are in Belgrade, make sure you always have a long sleeve hoodie with you because you never know when the weather can surprise you.
The point is that when you go to Skadarlija to get bread for breakfast, you can also go to your favorite kaftan. Here are all the neighbors.